Introduction
If you have read my review about this plugin, you are probably loving and using it already. However, it's possible that your hosting company have a really low upload limit and you don't have 69$ to pay for the unlimited extension.
If that is the case, you can follow this really easy guide to increase the upload.
Increasing the upload size
The plugin itself isn't limiting the upload size. By default, it just uses the limit set on the hosting side. So to increase the upload size, we could try to search on the hosting options or reach out the support, but that would still have a limit. What to do if we want a really huge limit?
Well, do you remember that the unlimited exntesion uploads the wpress file in smaller parts and then put it together? There is a plugin that allows the same thing called "Big File Uploads". So in order to increase the upload size to any value, we can use this amazing plugin.
In this case, my host is allowing 100M for uploads:

I've installed the plugin and activated it, but nothing changed. To actually increase the upload limit, you can go to the plugin settings inside the plugin section:

Or you can also go to WordPress Settings -> Big File Uploads: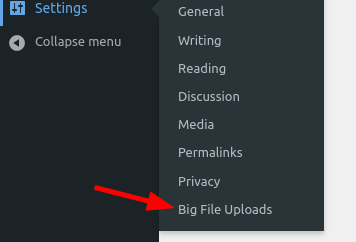 Inside the plugin panel, you will see the upload size:

By default, it will be the same of your hosting company. You can now change that to any value. 1GB = 1024MB, so if I want 40GB for example, I can just use 1024*40, which would be 40960.
After choosing your value, just hit save and you are done!

As you can see, I now have 40GB to upload on All In One WP Migration:

Conclusion
This is not an attack to ServMask. They did a really great job on this plugin and I encourage you to buy their Unlimited Extension to support their work. Hopefully this post will be useful for you if you need to use only their free plugin.
If you enjoyed this article, you can share it your friends or subscribe to The Self Hosting Art to keep us motivated. Thank you for reading :)